"Believe, push and fight."
This is the philosophy that helped Dave Ryding achieve success in alpine skiing at the end of his career.
And that's exactly what the 36-year-old showed when he returned to Kitzbühel after a historic World Cup victory a year ago.
After struggling in the first part of the season, Ryding made another tumultuous second stint to move up from 16th to second place only with the Swiss Daniel Julia able to outshine your cumulative time.
Speaking to Olympics.com from his training base in Klausberg-Ahrntal, Austria, ahead of his third World Cup podium finish, the Lancashire native said: "I know my process has worked over the years, so I just have to stick with it.
"The most important thing is to go to the start again and squeeze out of the gate as hard as possible and then let the skis do the work.
"If you keep doing that consistently and train hard in and out of the snow, doing everything right, then your results will come. I just have to trust the process and my approach."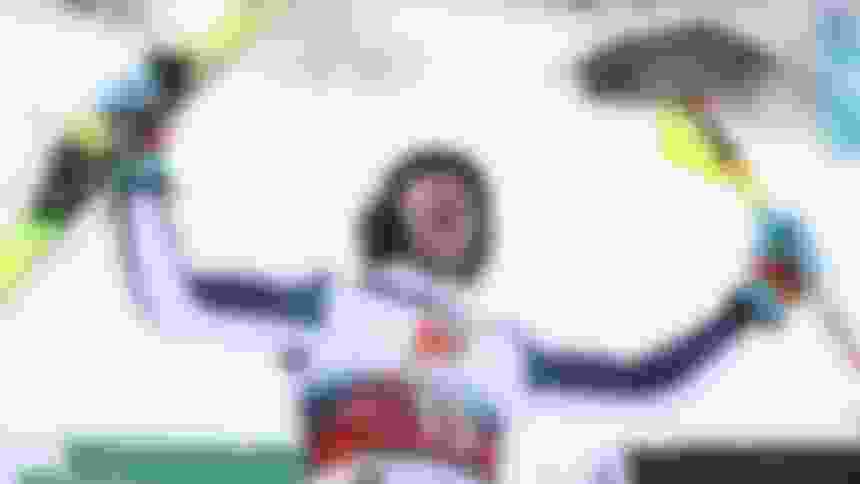 Ryding celebrates his slalom win in Kitzbuhel, January 22, 2022. (Photo: Alexander Hassenstein/Getty Images) (2022 Getty Images)
Dave Ryding: Winning in Kitzbuhel gave me a sense of accomplishment
Twelve months ago, Ryding became the first British alpine skier in history to win a World Cup event.
A success that captured the imagination not only of his compatriots, but made headlines around the world, reaching the headlines in Fiji.
It was a fairy tale for a man who learned to ski on dry slopes at the age of eight, and saw real snow for the first time four years later.
"I remember that day was just crazy," he recalls.
"When I crossed the finish line, it was pure emotion (he was sixth after the first run), then disbelief, then I was just tired of all the adrenaline and stuff…
"Looking back, I always thought I could win a race. I was 35 when I won and no one in the world, let alone a Brit, has ever won a slalom at the age of 35 in a World Cup. So I thought my days might be over, but I always just push the gate out again and give it my all, and that philosophy paid off because Kitzbühel was my day that day. I rode really well and others struggled because it was really hard. So yes, it showed my strengths, I was able to come to the fore and on my day I was the best in the world.
How has the British man's life changed after twelve months?
"It didn't change me as a person. I still have the same life, I still do the same things, but it certainly took a lot of pressure off of me and really gave me a sense of fulfillment and fulfillment," he admitted.
"My calling for British skiing was to win a race. I will always be remembered as the first person to win a World Cup [event] for the UK and that will never be taken away from me. I'm sure people will have better careers than me, but that will never be taken away from me. Even when I die, whenever it happens, I will still be the first person. And it gives me a lot of self-satisfaction, self-realization and I still want to do more, but yes, I will always be able to stop skiing happy."
What goes on in the mind of a slalom skier?
Dave Ryding: High temperatures, sickness and financial cuts
Ryding finished on the podium twice last season, but has so far been unable to replicate the same performances this season. AND 12p place in Madonna di Campiglio in December is his best finish yet.
"It was just so warm and conditions were really bad in Garmisch, Adelboden and Wengen," he explained.
"I've never been polite when it comes to salting the snow. If I look at all my results over the years, I think I have [only] one top ten when it was warm. So yeah, that's definitely an area I'm struggling with, but hopefully it's getting colder again so I can feel better."
The 'Rocket', as he was nicknamed as a promising teenage skier on the plastic slopes of Pendle, he faced other challenges in the past few months.
His serviceman [who prepares the skis] he injured himself just before Christmas, and then Ryding contracted an illness that has recently prevented him from training and racing to the best of his ability.
"But I still feel like I want to fight," the Lancastrian promised.
And it didn't help that UK Sport cut funding for British skiers last summer, forcing athletes to seek financial help through a crowdfunding campaign.
"It's impossible to say how much it affected me because luckily we were still able to train and we made it work. But the stress and mental energy we had to put in to find sponsors and find solutions wasn't what you want to do in September or October.
The slalom specialist, however, believes there is cause for optimism: "I just didn't feel like I had a good run in the race yet. I feel like all I've been able to do this year is fight and hold on. And if I keep doing that, hopefully my time will come when I'm in the right position, in the right shape, where I can be on the podium again. I still think I have enough speed to do it.
Regarding the future of British skiing, he added: "Now I can see that the next generation is much better than mine. So yeah, while we've lost funding this year, I'm hoping this will position us differently in the long term and develop revenue streams that can be more reliable in the future."
Dave Ryding: Racing to 40?
The four-time Winter Olympian and The ensign of the GB team from Beijing 2022 he has been competing with the best in the world since 2009 and is now one of the veterans of the World Cup.
So how does he cope in such a physically and mentally demanding sport?
"I think I started skiing later than a lot of people, so I didn't get into the top 15 until I was 30. And then I spent six years in the top 15. While someone likes Marcel [Hirscher]he was in the top 15 probably at 19 and 11 years later he retired at 30," he explained.
"I don't think I'm mentally as tired as most people my age. I am fully committed. But now I take it year after year and say after this year I will reassess how I feel, now also with my family. But if I decide, "Okay, I can commit" then I know I'm going to give 100% all year long because that's what I'm committed to and that's who I am as a person, when I commit to something I'll go all out case.
Testing and pushing yourself is something that fascinates the Brit: "I'm trying to figure out how to move on as I approach forty," he said.
"I just admire those who can still do it in their old age. So like Manny Mölgg, Giuliano Razzoli… I mean [Johan] Clarey now he's doing crazy stuff in downhill, I don't know if it's possible in slalom at this age, but we'll see if anyone does it."
What is the probability that he will see him in a competition at the age of 40? His answer was accompanied by a cheeky smile: "It's not likely at all, I'd say 0.5%!"
Dave Ryding: Life after skiing, coffee and family
With his sporting career nearing the end, Ryding is already contemplating a life outside of skiing.
He and his Dutch wife Mandy run the "Boskins Café" in the quiet West Lancashere village of Tarleton, where customers can enjoy espressos, lattes and the "Rocket Ryding Breakfast" which includes salmon, mushrooms, avocados and poached eggs on toast.
"I was 30 years old and I only knew red and blue slalom gates. And it felt like my mind had become a cauliflower," the skier confessed.
"I really needed to stimulate my mind in some way, and that's what the coffee shop did. And it reminded me that the real world, like what 99% of people do, is not easy. So I respect what I do and I continue to do what I do because I love it."
The 36-year-old is also thinking of upgrading his skills as a barista: "I'd like to do that. I love coffee, especially when I'm in Italy. In some countries it's not so good, but I have a passion for a good espresso. And after skiing, I definitely enjoy discovering the origins of coffee and knowing how to brew good coffee is something I would love to do."
Where does he see himself in ten years?
"I'd love to have a nice beach house where you can relax, but I'm sure I'll be busy with work because I don't like to sit around too long," he revealed.
"I think I will continue to ski in some way. My daughter [Nina] she'll be 10, so maybe she'll be good at skiing or soccer. I hope football…"
What team would suit her? "I'm a Liverpool fan," he said, "but whoever pays the most money will get my blessing!"