The moment Italo Ferreira stood on the podium at Tokyo 2020 as the first Olympic champion in men's surfing history, he represented more than the Brazilian flag.
It was a triumph for an athlete who had to prove himself from the very beginning of his career when he surfed on a styrofoam board in a fishing village.
"I had to fight to be seen as someone special," Ferreira said olympics.com in an exclusive off-season interview in Baia Formosa, ahead of the start of the 2023 World Surf League Championship Tour.
The 28-year-old not only achieved where he wanted to go, but also made history in his sport.
"The other guys will win [the Olympics]but the first will never be forgotten. My name will be there, he said.
Find out what Ferreira said about being inspired by skateboarder Rayssa Leal in Tokyo, his rivalry with fellow Brazilians Filipe Toledo and Gabriel Medina, and how surfing helped him leave a legacy for generations to come.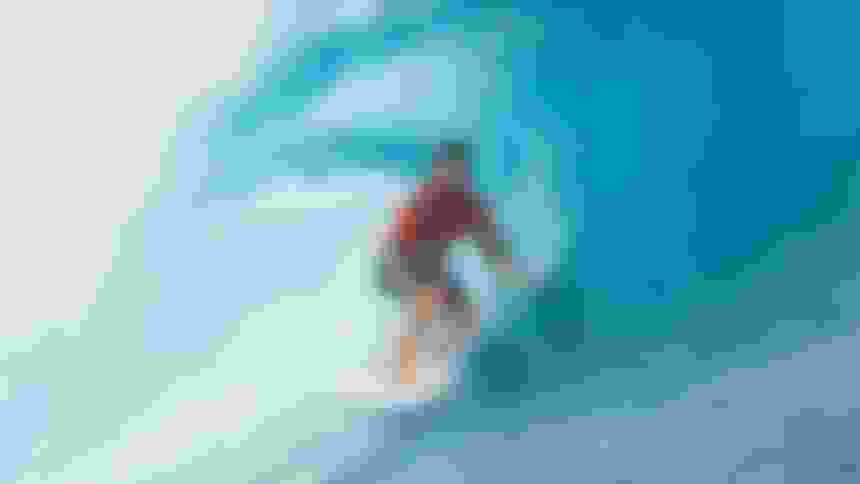 Italo Ferreira surfs at Teahupo'o, where Paris 2024 surfing will take place. (World Surf League 2022)
Italo Ferreira and Olympic gold: inspired by Rayssa Leal
When surfing was confirmed to be on the Tokyo 2020 lineup, Ferreira knew the event could change his life.
"It became a fixation in my mind, an obsession to make my name on the world stage. I believe God wrote the best story," he said.
Nevertheless, he was still impressed by the grandeur of the Games.
"I had no idea how big the Olympics were. I knew they were big, but when I started competing and checked social media, I really saw the impact it had."
Seeing Brazilian skateboarder Rayssa Leal win a silver medal inspired Ferreira to make his homeland proud.
"It was very important to her sport, skateboarding. Such a young girl comes home with a medal. Two days later I was in the same place. I had a chance to win Brazil's first gold medal [in Tokyo]"He remembered.
"It was great for the sport to become the first Olympic surfing champion. The other guys will win [the Olympics]but the first will never be forgotten. My name will be there."
Italo Ferreira: Tokyo 2020 medal moments
Teahupo'o's challenging waves in Tahiti will host the 2024 Paris surf competition. Ferreira has never won a competition there but is confident he can improve when the time comes.
"I know God will prepare something for me [in Tahiti]. I have devoted myself to these barrels over the last few years.
"One of my dreams is to become Olympic champion again."
Italo Ferreira: leaving a legacy for my community
Ferreira can be very competitive, but his passion for surfing goes far beyond trophies and medals.
"When you're in the water, that's the moment you forget everything else. It's good for me and I've been doing it since childhood. It also connects you to God," he said.
Every time Ferreira returns to Baia Formosa, he goes back to being the young boy who floated the waves with the improvised Styrofoam board his father used to sell fish.
"I'm much more famous now for the Olympics, but I'm taking it easy. I am like any other person. I only have a few titles. It doesn't make me better than anyone else."
Ferreira recalls that his ease with flying through the air – a very difficult trick for many, but a natural thing for him – stems from his childhood.
"When I was a kid, I used to jump on everything. The waves here [Baia Formosa] doesn't give you much space, so my first trick was the antenna. I almost had to fetch to learn other tricks."
Being at home allows Ferreira to understand the scale of his heritage. He set up an institute in his hometown to teach surfing to young people like Arthur Villar, an 11-year-old who became his apprentice.
"The institute will add more local community so children have opportunities, light [to follow] and some direction," he explained.
Ferreira inspires not only children.
"I met a 68-year-old woman," he said. "She told me that she started surfing because she saw me at the Olympics and that surfing was one of the best things she ever did in her life."
STILL | Japan and US qualify for Paris 2024
Italo Ferreira on Medina and Toledo: "We make us better"
As of 2014, only Hawaiian John John Florence stopped the "Brazilian storm" from winning the World Surf League (WSL) championship. Gabriel Medina is a three-time champion (2014, 2018 and 2021), Adriano de Souza triumphed in 2015 before retiring, Ferreira won in 2019 and Filipe Toledo joined the club in 2022.
"We make us better. When one of us wins, the other is always around. We have a lot of stories to tell and the races we compete against each other are the best. When I started, everyone said they wanted to compete with Kelly [Slater] or Jan [John Florence]. Now these people are from Brazil," he said proudly.
Ferreira competed in the 2022 WSL Finals with a fractured foot and finished second, losing to Toledo.
"I carried this injury to the final, but I couldn't give up this chance. Then I stayed in the US, so I didn't surf because I knew that if I got back home, the chances of getting back in the water were 110 percent," he confessed.
The 2023 WSL Championship Tour kicks off in Hawaii on January 29 with the 2024 Paris stakes at stake.
"2022 was one of the most consistent years of my career," he thought. "I didn't win any events, but I qualified for the final and finished second, which is positive. The goal is to stay on top."
STILL | Filipe Toledo wins the WSL crown
Italo Ferreira: "I know my purpose"
Every time Ferreira needs motivation to move on, he remembers the beginnings when few believed in his potential.
"In 2019 when I won [the CT]no one was talking about me. I watched a movie where I was criticized and I was very affected by it. I improved and won the title," he explained.
"In juniors, when I was part of a very good team, I was always last on the list. Nobody thought about Italo. I thought people needed to see my worth and that I could be as good or even better than other guys.
"I had to fight to be seen as someone special."
But how does one not succumb to this outer doubt, or even become stronger because of it?
"You have to be present every day, think about what you believe. A lot of people try to belittle you through their phones [social media] – something disposable You have to remember "Why am I doing this? Why should I exercise? I know my goal, that if I commit myself and believe until the end, I can achieve anything."