The ISF Academy is committed to developing the health and well-being of young people from around the world. This commitment extends to the work conducted by the ISF Academy through a range of projects, most notably the Schools in Motion Project and upcoming World Teacher Games to be held in France in October 2024.
Additionally, the ISF Academy leads courses for Physical Education teachers during ISF events. It was an honour for the ISF Academy to work with over 75 future and current Physical Education practitioners for a conference held at the Lazar Savatic School in Belgrade. The event ran conjunction with the ISF World Futsal championships being held in Belgrade.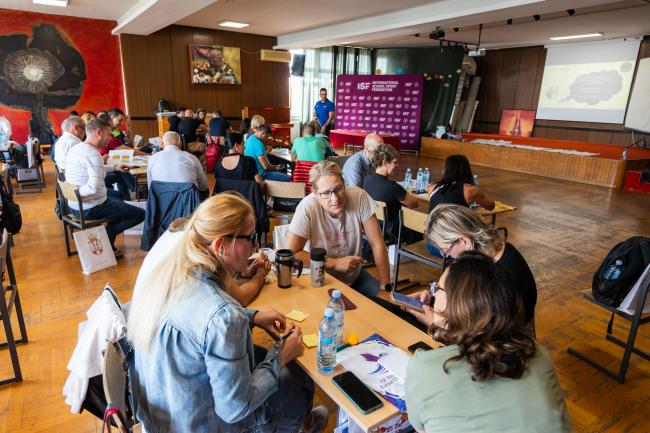 The focus of the conference was to introduce Physical Literacy with theoretical and practical ideas and strategies to integrate the concept into Physical Education lessons. During the morning session, course attendees discussed the most effective ways of ensuring that Physical Education was informed and powered by Physical Literacy. Physical Education lessons that focused on the Motivations, Confidences, Physical Competencies and levels of Knowledge & Understanding of young people.
During the afternoon session, local university sports students joined us at the Lazar Savatic school to participate in a range of practical activities that were underpinned and designed with a Physical Literacy focus. The students time travelled back to when they were early adolescents and approached the activities with energy, healthy competitive spirit and smiles on their faces. Observing PE teachers were able to note down the ideas ready to be implemented into their own practice in the coming weeks.
The event also provided valuable opportunity for PE teachers to network and share their experiences with one another. PE teachers discussed the main challenges and successes of their Physical Educational practices and there was a palpable passion in the room from all attendees to continue strive for the very best for our young people.
The ISF Academy would like to thank the hospitality shown by the Lazar Savatic school and the support provided by the Skolski Sport Srbije and Sanja Ugren in the build up to and during the event.