ISF is pleased to officially invite ISF members to participate in the first ever event ISF Winter Junior High School which will be organized in Erzurum (Turkey) from 11p till 18p February 2023
On this occasion, the first edition of the ISF Winter Junior High School will take place, which is a key moment in the history of ISF and for all participants and students who will take part in it.
Together with the LOC, the ISF is committed to organizing competitions at the highest organizational level and is ready to provide a great winter sports experience for everyone. The city of Erzurum is famous for organizing winter sports events and we ensure that this event will remain in the memory of all participants for a long time.
Attached you will find the event newsletter 0, which contains the first information related to the location of the event, venues and facilities, as well as the administration, finances and sports program of the event. More details on the sports disciplines and the composition of the delegations will be published in Newsletter 1, which will be published by early September 2022 at the latest.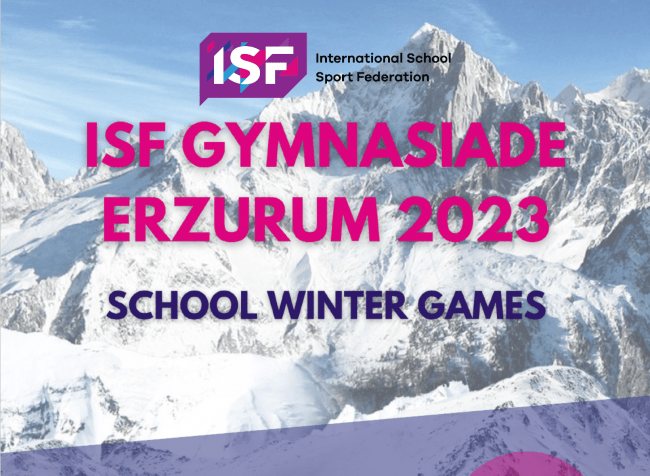 Document
(15.06 MB) Download
Regarding the registration process, we kindly invite you to proceed with the registration through the website ERAS platformas is the case with all ISF events. Registration of ISF members will only be possible through the ISF Online Registration System (ERAS https://isf-eras.org/). Please do not hesitate to contact the sports department at sport@isfports.org for any registration related issues.
We would like to emphasize that the registration process will consist of three registration steps, z Phase 1 open from 20p June 2022
We would also like to remind you of this participation is guaranteed after paying the deposit (until 30p September 2022).
We are waiting for you in Erzurum, Turkey in 2023.