Maybe a tight rope over a desert canyon and a set of uneven sticks aren't all that different.
The last Olympic champion in gymnastics Nastya Liukin it looked like child's play, though far from it. Her all-round triumph at the 2008 Beijing Olympics was made possible in no small part by her ability to make one of the most difficult routines at the event – ever – look like a graceful inverted ballet.
In the former, Liukin, 33, found herself more than a decade later as part of the FOX reality show "Special Forces". At an altitude of about 200 feet (over 60 m), Liukin was one of only three competitors to make it through the 300-foot-wide (90 m) intersection.
Both feats showed the gymnastics star the depth of her mental strength.
"Not everything was shown, but I nearly fell at least seven times," recalls Liukin in an exclusive interview with Olympics.com. "I especially remember thinking, 'No, you're in the Olympics now.' I literally just pulled myself up and said, "There's a gold medal at stake."
"It made me realize mental toughness, mental strength that just doesn't go away," she continued. "Maybe you don't use it every day, [but it's there.]"
• Nastia Liukin on "little moments" that made her triumph in 2008 special
Nastya Liukin: Crossing Boundaries
Liukin's Special Forces experience was all about breaking out of the daily routine. The show featured 16 celebrities, including another Olympic champion Carly Lloyd and silver medalist Gus Kenworthy into the Jordanian desert for military-like training.
"I think in general I was just trying to keep telling myself that it would be fine if I wasn't in full control," Liukin said. "So much of my life is a schedule, very black and white. The thing that was probably one of the hardest things about the program was the lack of preparation, and also just not being prepared, but not knowing How to prepare".
In the first episode of the series, Liukin jumped backwards out of a helicopter, mastered a tight rope and lost the final challenge, which required the contestants to physically attack a staff member.
"I don't want to hit anyone and I don't want to be hit. I don't want to be thrown around. I can't fight someone," Liukin said in the episode.
But Liukin struggled until day three, where the physical test consisted of being underwater in a car for 20 seconds and then surfacing.
When it was her turn, Liukin informed the staff about an old gymnastics injury – she hit her face on uneven bars doing a release move years ago – which caused her trouble breathing.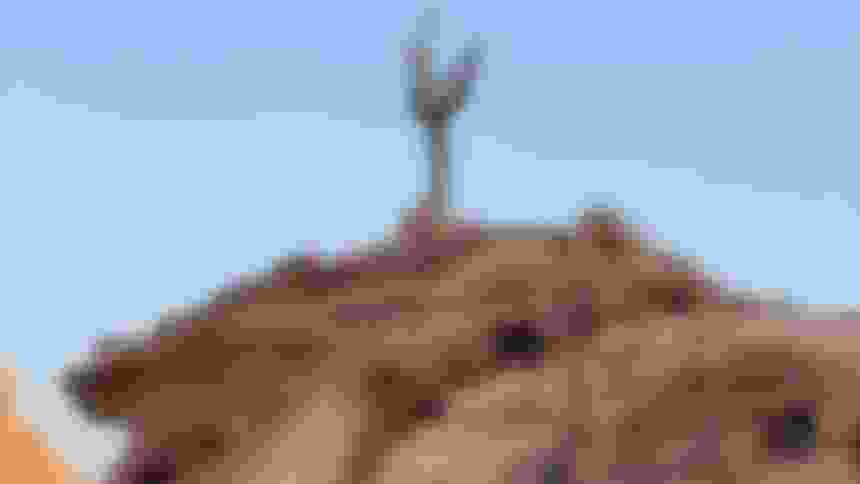 Nastia Liukin poses in the desert on the reality show FOX: "Special Forces" (Nastya Liukin)
As part of the accommodation, one of the employees joined Liukin, who then completed the task in the car.
Although many of her fellow recruits praised her for meeting a challenge that clearly made her uncomfortable, some expressed displeasure that she was given a pass with help that others did not.
The help from the crew and the reaction to it did not suit Liukin at that time.
"I tried to convince them that I didn't want special treatment," she said. "I think the biggest thing for me was that my integrity was at stake, my integrity was fundamentally questioned. I didn't win the Games because of special treatment. I didn't want to be there with special treatment."
Reliving that moment when the show aired last week, Liukin admitted she saw things differently when she took a step back.
"It was a personal journey for all of us and I think that's what the staff was trying to explain to me. It was like, "Okay. We wanted to help you, you didn't ask for it, but this is your journey," she explained. "I'm like, 'Well, nobody else got help.' But it's their journey, you know? They tried to explain it to me.
"I think at the moment," Liukin continued. "I wasn't open to it because it just made me feel like it was special treatment."
Still, a few months later, he can still look back with pride on overcoming a tight rope.
"It was a moment that I was proud of because everyone keeps saying, 'Oh, you're not strong.' "You are too much." "You are too." But to show that yes, I'm not the strongest physically there, but I was still able to do something like that, was a moment that filled me with pride.
See: Nastya Liukin recalls Olympic glory
Liukin before the 14th Nastia Liukin Cup: "I wanted to give them the feeling that you are special"
Liukin's mental toughness – something that helped her win five Olympic medals and nine world medals – was honed at a young age.
Liukin still remembers the first time she stood on the podium, a raised platform for equipment used at world championships and the Olympics. It was in 2002 at a meeting aptly named "Podium Meet".
"[It] it was just before the America's Cup…then I stayed and watched the America's Cup," she recalls. "I remember being in the stands with my dad [and coach Valeri Liukin, 1988 Olympic champion] and he says, "Wouldn't it be cool if someone like you could compete in the America's Cup?"
Liukin has of course competed in the America's Cup, winning the balance beam at the event in 2005 and the all-around titles in 2006 and 2008.
But that first time on the podium impressed Liukin so much that after winning all-around gold in Beijing, she came up with an idea: the Nastia Liukin Cup, a level 10 development meeting held every year on the podium. The 2023 edition, scheduled for February 24 in Louisville, will be the 14th.
The Cup has become one of the most prestigious developmental competitions in the United States, with thousands of young gymnasts competing in a series of qualifying competitions in hopes of going to an event that includes a leotard and warm-up and lunch with Liukin himself.
The event was attended by all the prominent NCAA athletes such as Haleigh Bryant to the all-time Olympic champion Gabby Douglas participate.
Liukin hopes that regardless of the athlete's goals and where his career may ultimately lead, the Nastia Liukin Cup will leave them with something special.
"I wanted to give them the feeling that you are special, you are amazing," said Liukin. "No matter what your achievements are, you are as good as anyone else. I wanted them to feel like they were competing in the Olympics, and now that they've done that, this is your moment, now just go out there and enjoy."