Belgrade, Serbia – [08/10/2023] – Serbia is all set to host the ISF WSC Futsal from October 8th to 17th in Belgrade, Serbia. The grand opening ceremony is scheduled for Monday, October 9th, starting at 7:30 PM at the Ranko Zeravica Hall.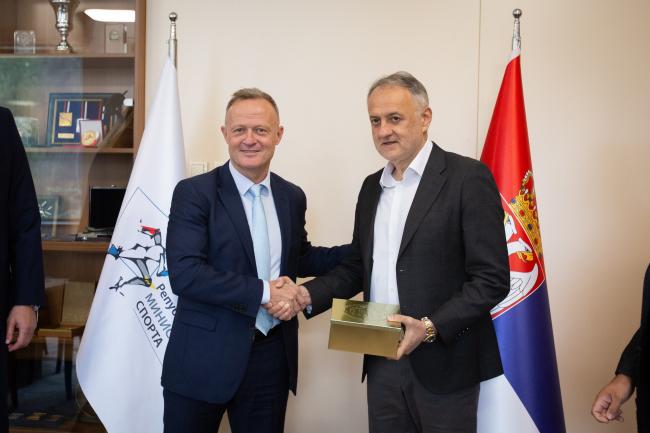 In preparation for this prestigious competition, representatives from the International School Sport Federation (ISF) and the Serbian School Sport Federation were received by the Minister of Sports. Minister Zoran Gaji? and his team warmly welcomed ISF President Laurent Petrynka and his associates, along with Željko Tanaskovi?, President of the Serbian School Federation, to discuss the Futsal Championship, the Volleyball Championship to be held in Serbia early next year, and future collaborations between ISF and Serbia to enhance school sport and physical education teacher training.
Prior to the commencement of the competition, ISF President Laurent Petrynka will meet with high-level Serbian authorities. Those key stakeholders for the development of school sport in Serbia and beyond have the common mission of enhancing key educational values through sport in the spirit of the Olympic and Paralympic values.
Amidst this busy schedule, President Laurent Petrynka and the executive members will convene in the Serbian capital for two days of meetings to discuss future next steps of ISF.
Turning our attention back to the competition itself, this year, Serbia will welcome 23 boys and girls teams from 12 countries/regions for its Futsal Championship. The competitions will take place from October 10th to 16th at four venues across the city of Belgrade. Having previously organized numerous ISF competitions, including the ISF WSC Volleyball, Handball, Basketball 3×3 and Football, the President of the Serbian School Sport Federation is already looking forward to this new edition. He asserts that participant feedbacks have consistently been excellent at the conclusion of each competition and invites citizens to come and support the teams during the matches (free admission).
For all information regarding the competition: https://events.isfsports.org/wsc-futsal-2023/