Chris Nikic she is one of those rare people who can make people truly believe that they can make their dreams come true.
The Florida native was born in 1999 with Down syndrome and underwent open-heart surgery at the age of five months
He was unable to walk well until he was four years old.
But Chris never used these facts as an excuse not to stand out in life.
On New Year's Eve 2019, Chris told his father: Incisionthat he had a dream.
"I told my dad I wanted to run a business, buy my own house and car, be a public speaker, get married and start my own family," Chris told Olympics.com.
Nick had an idea: Chris could stay first person with Down syndrome to complete a full Ironman triathlon.
It's 3.8 km (2.4 mi) of swimming, 180 km (112 mi) of cycling and a full marathon of 42.2 km (26.2 mi).
Chris Nikic swims in Kailua Kona, Hawaii. (2022 Getty Images)
Chris Nikic and the "1% better" method.
Using his skills as a corporate consultant, Nick created a training schedule for his son based on a system he used to improve companies called "1% Better", which involved creating a culture of continuous improvement.
"When I first started training, the simple goal was to improve by one percent in each exercise," Chris explained.
"Every day I did one more lap of the pool, one more lap on the bike, and one more lap on the run."
"When I was doing strength training, it was one more pull-up, one more sit-up, one more press, and one more squat and barbell in the gym.
"I knew that by getting one percent stronger each day, I would be able to finish Ironman one day."
TO READ: Chris Nikic makes history for athletes with Down syndrome
While physical progress was slow and steady, the racing experience provided a slightly steeper learning curve.
His first competition was the sprint triathlon [750m swim, 20km bike, 5km run]and Chris placed 10th out of 10 Special Olympics athletes competing.
Undaunted and with his dream in mind, Chris trained hard and one mile eventually turned into 140.
In November 2020, just 11 months after starting his triathlon journey, Chris made history completing an Ironman in Florida.
"The hardest thing was the bike because I had to be on it for eight hours," revealed Chris.
"But I refused to give up because of my dream, and that's why I kept going through the pain." – Chris Nikic for Olympics.com
Meeting with Mikaela Shiffrin
Chris' achievement went viral and his dream began to take shape.
He has been invited to speak at prestigious events, signed a contract with one of the major sportswear brands and food outlets, and signed a book contract.
The achievements of the young triathlete were also appreciated, e.g Jimmy V Award for Perseverance – awarded to a person from the world of sports who, thanks to perseverance and determination, overcame great obstacles – at ESPYS 2021.
Chris has also had the opportunity to meet some famous athletes such as NFL stars Tom Brady and Rob Gronkowskiwhile also being a two-time Olympic gold medalist Mikaela Shiffrin offered to give him skiing lessons.
In addition to creating the legendary Ironman in less than a year, the "1% Better" method has brought another significant benefit.
Despite training four to eight hours a day, Chris has never been injured.
"We stopped listening to the experts and decided to do it our way because all the other athletes were getting injured," Nick revealed.
"With 1%, your body adjusts slowly, no pain, no injury, no hardship of going too fast.
"It builds a mindset of, 'I can always do another one.' So when most people quit, when it gets painful, Chris never quits because he always knows he can do one more. It doesn't matter where he is in the race, he knows he can do one more. "
The mantra also helps Chris in other areas of his life, such as basketball, golf, science and public speaking.
__"_The mind becomes your friend and gradual improvement becomes a habit, it just encourages you and helps you do more," continued Nick.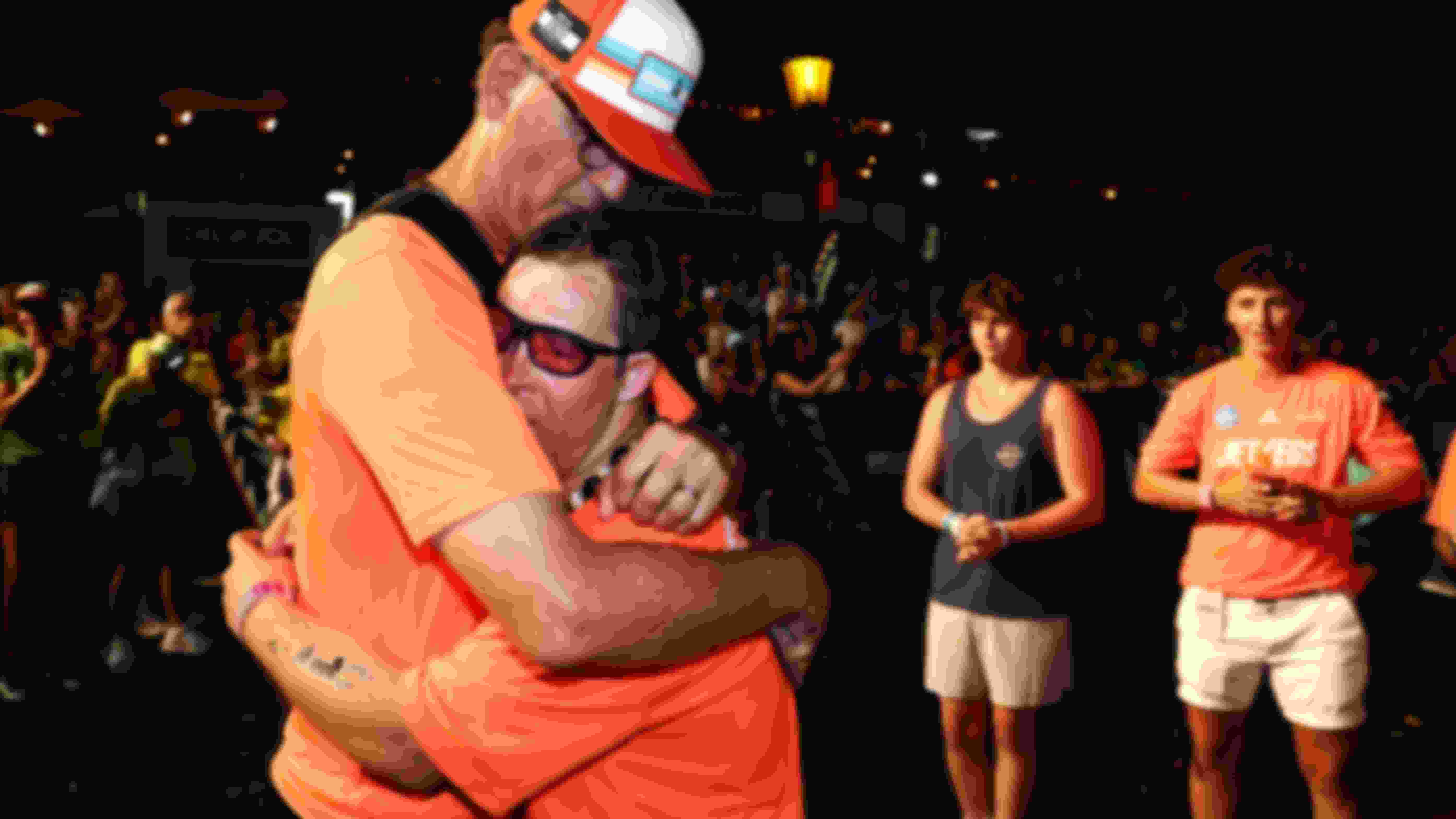 Chris Nikic celebrates with his father Nick Nikic after completing the Ironman World Championships in Hawaii (2022 Getty Images)
Chris Nikic: 'When people call me a hero, I want to move on'
With the same fearlessness, Chris threw himself into more athletic challenges, completing them two New York marathonsand also a second Ironman in Hawaii.
He has a girlfriend, and while Chris' dream remains the same, his motivation to complete these grueling endurance races has evolved.
"My girlfriend came to see my Ironman in Hawaii and was waiting for me at the finish line," Chris said.
"Even when it was really hard, there was no way he would quit because I wanted to give her a promise ring at the finish line."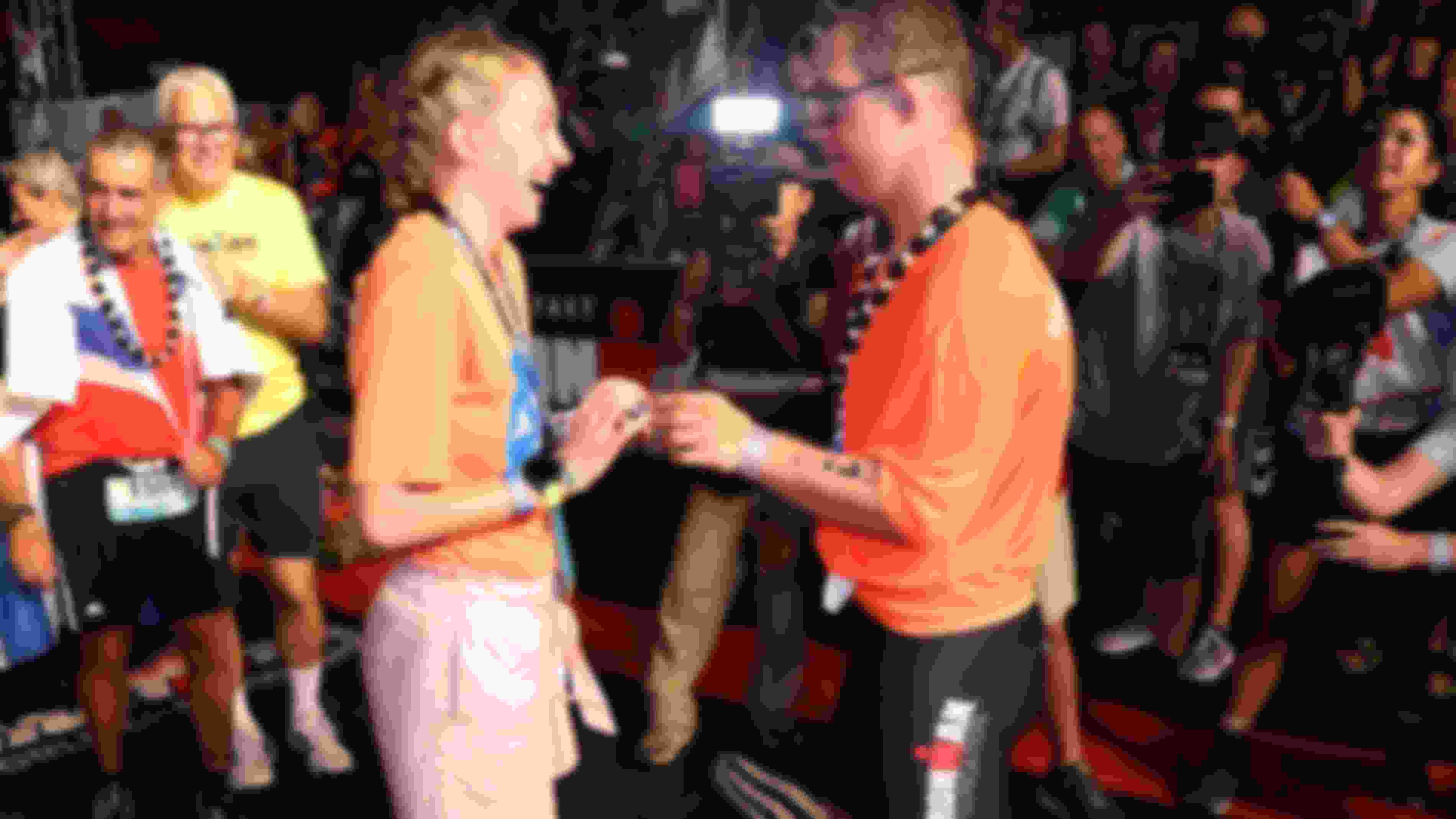 Chris Nikic celebrates with his girlfriend after completing the Ironman World Championships in October 2022 in Hawaii (2022 Getty Images)
Increased media attention has also seen Chris receive hundreds of messages online from parents of Down syndrome children thanking him for being an inspiration.
In this way, competition for oneself was replaced by giving hope to others.
"When people call me a hero, I want to move on because I have to live my dreams, and now it's about helping other people achieve their dreams."
New test: Six major marathons in one year
Eager to challenge himself, Chris will take on his biggest challenge yet in 2023: completing all six major World Marathon tournaments in New York, Chicago, Boston, London, Berlin and Tokyo.
Another important goal of Chris is to further raise awareness of athletes with different neurodiversities around the world and create opportunities for them to participate in all major races.
Currently, only the Boston Marathon hosts a race for people with neurodiversity, while Ironman was the first major sports federation to include this category.
"We've been told all our lives what Chris can't do," Nick said with a tear in his eye.
"So we were prepared for a life where we would have to look after him, protect him and create a situation where we would take care of him when we were done.
"When Chris first crossed the Ironman finish line, for the first time in my life, I looked at him and said, 'You know what? He'll be fine."
"More importantly, I thought all the other millions of parents and kids like him would be okay because they just saw an example of what's possible, something that goes against what we've all been told. Our children can be included and can achieve their goals and dreams."
Chris has undoubtedly built a happy life as a history-making triathlete, inspiring people around the world.
But his world away from the sport also seemed ostensibly idyllic. After this interview, his plans were to practice boxing, play basketball, watch a movie, and finish a red velvet cake sitting in the kitchen.
When asked what advice he would give to someone who also wants to go out and achieve their goals against the odds, he smiled and said, "Just keep going."