From 16p – 17p May, 2022 edition of the ISF General Assembly, on the occasion of the 50th anniversary ofp th anniversary of the ISF, took place in Deauville, Normandy as part of the ISF Gymnasiade Normandy 2022. ISF President, Mr. Laurent Petrynka, Mayor of Deauville, Mr. Philippe Augier, and UNSS National Director, Mr. Olivier Girault, brought together more than 70 representatives of school sports from ISF member countries around the world to review reports on ISF activities and activities over the past year, President, Vice Presidents and Continental Presidents . In addition, it was an opportunity for ISF members to elect a new ISF Executive Committee.
After four rounds of voting for each position in the board, a new ISF Executive Committee for the 2022-2026 term was announced, which began with the announcement of the re-election of Laurent Petrynka, the president of the ISF.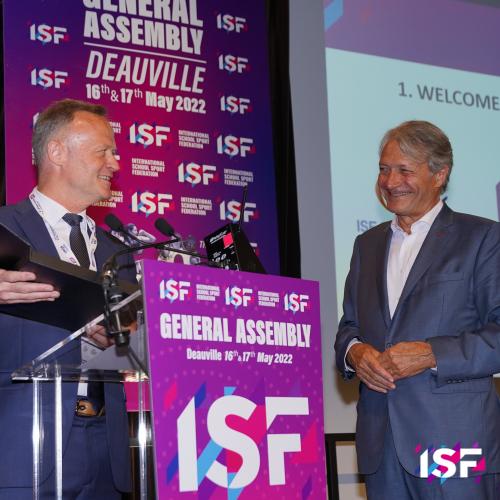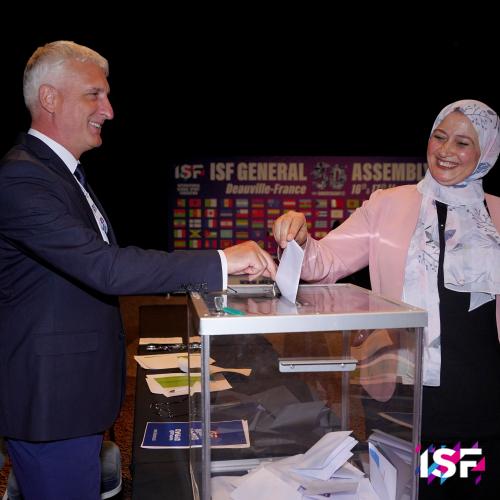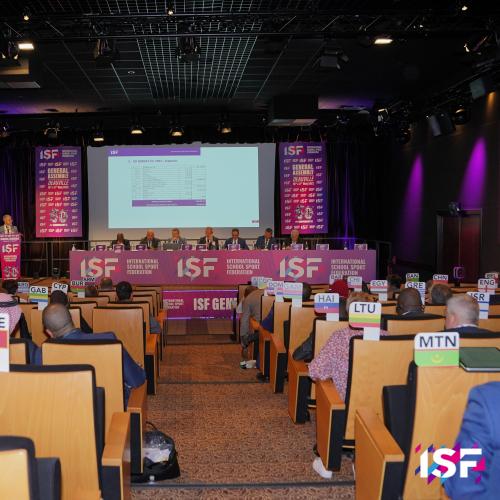 List of the ISF Executive Committee | 2022 – 2026
President of the ISF: Laurent Petrynka (France)
vice presidents:
Youssef Belqasmi (Morocco)

Antonio Hora Filho (Brazil)

Zhang Ailong (China)
Presidents of continents:
Africa – Mamdou Souleymane Kone (Ivory Coast)
America – Jose Martin Sanchez Tenorio (Mexico)

Asia – Niwat Limsuknirun (Thailand)
Europe – Zeljko Tanaskovic (Serbia)
Oceania – Gary McSweeney (Australia)
Assessors:
Abdulrahman Al Muftah (Qatar)

Abdoulaye Bamba Mbaye (Senegal)

Gino Grajeda (USA)

Guy Dagan (Israel)

Izem Abdelhafid (Algeria)

Mattias Metsary (Estonia)

Nurzhan Nurakhmetov (Kazakhstan)

Olasibi Joseph (Nigeria)

Omür Karakullukcu (Turkey)

Raj Kumar Karki (Nepal)

Renos Pittalis (Cyprus)

Roman Greba (Ukraine)

Sophie Bordet (Peru)

Stelios Daskalakis (Greece)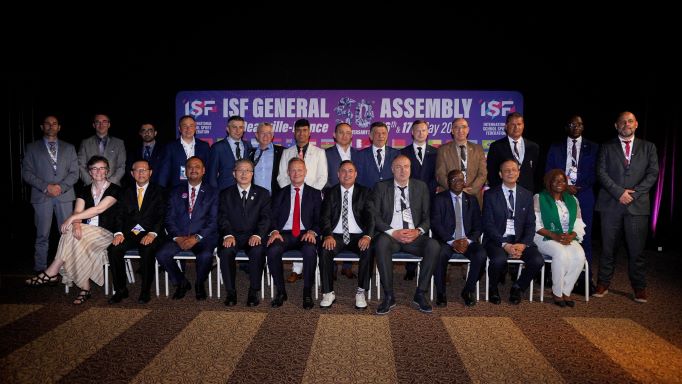 In addition to the elections of the ISF Executive Committee, the ISF General Assembly was the occasion to reappoint Valerie Lebondo from Gabon as Chair of the Gender Equality Committee and Sophie Bordet from Peru as Chair of the Gender Equality Committee in 2020. In addition, Olivier Girault from France was appointed president of the ISF Sports Committee, and outgoing president Zeljko Tanaskovic from Serbia took over as continental president of ISF Europe.
With these elections establishing new mandates for the entire Executive Committee for the new four years, this General Assembly not only marked the 50thp anniversary, but recognition of the last four years and development and innovation seen throughout the ISF as a platform for future partnerships and projects, which was further emphasized and extended during the President's report.
During this four-year period, the ISF has experienced great expansion and consolidation, especially with regard to its members. The numbers alone show the expansion in school sport, with the ISF having a total of 88 member countries in 2018, compared to now when the ISF family consists of a total of 132 member countries, with Bahrain added so far this year.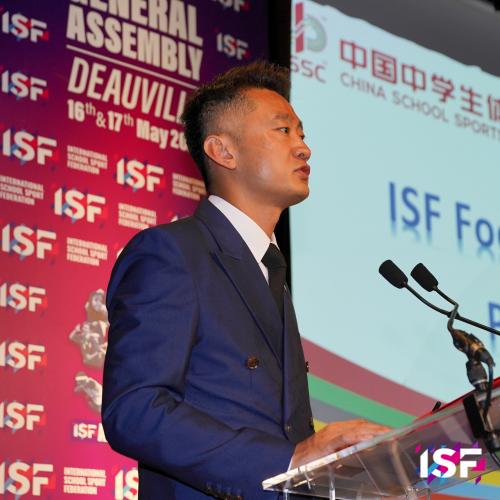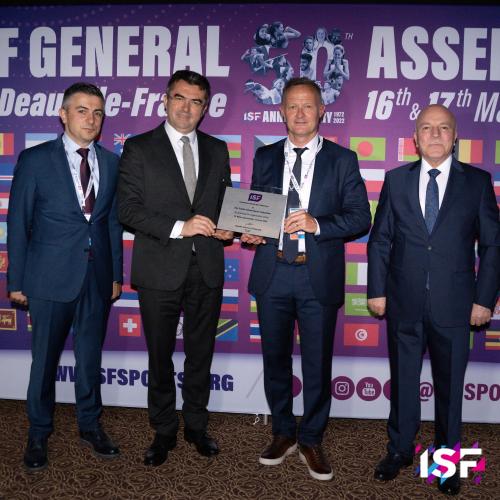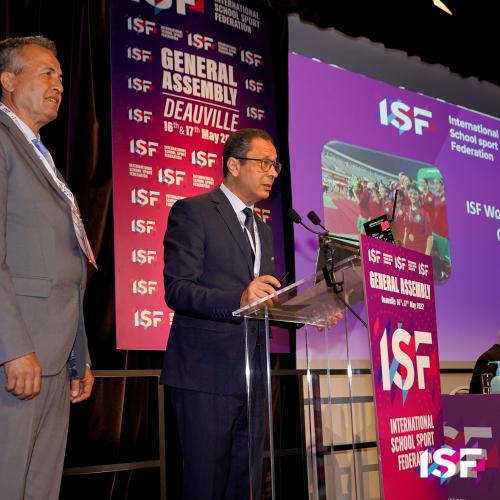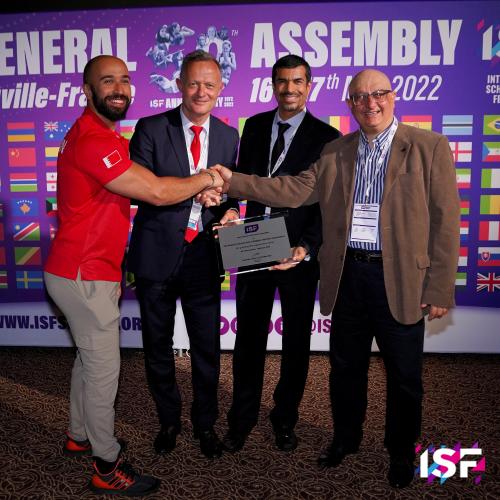 Looking to the future of the ISF, the General Assembly also provided an opportunity to officially pin down ISF events for the coming years. No fewer than four events were assigned, and each host's presentations preceded their official assignment by the General Assembly.
The first ISF Gymnasiade – Winter School Games was officially awarded to Turkey in Erzurum for the year 2023. ISF member Turkiye Okul Sporrary Federasyonu (Turkish School Sports Federation) is no stranger to ISF events or ISF multi-sport events that organized ISF Gymnasiade – Summer School Games in 2016 in Trabzon, and in 1978 in Izmir.
The 2023 ISF School Soccer World Cup will also be hosted by Morocco. Another seasoned member at ISF events, Morocco is not only a regular participant in ISF events, but also hosts the historic ISF Gymnasiade 2018, the first edition ever held on the African continent.
During this General Assembly, which took place as part of the ISF Gymnasiade Normandy 2022, it was appropriate that on this occasion a decision was made on the next ISF Gymnasiade in 2024, with the event unanimously attributed to Bahrain. As the latest member to join the ISF family, this is a true statement of will to play a key role in the international school sports community. His Excellency Sheikh Dr. Saqer Al Khalifa, His Excellency Dr. Askar Abdulrahman, Director General of the Sports Authority, and Faris Mustafa Al-Kooheji, Secretary General of the Bahrain Olympic Committee, were present to present the project and celebrate the occasion.
In addition to the new hosts of existing ISF events, a new event concept, the ISF Soccer World Cup, created by ISF member China School Sports Federation (CSSF) and scheduled to take place from 2025 to 2027, was introduced to the General Assembly.
The occasion of the ISF General Assembly was also an opportunity to present the ISF family with the current development of ISF Gymnasiade Jinjiang 2020, which has been postponed from its original date. From this came the willingness of PR China, who spent many months organizing test events, preparing all the final details for the event, which will take place from 26p November to 3r&d December this year.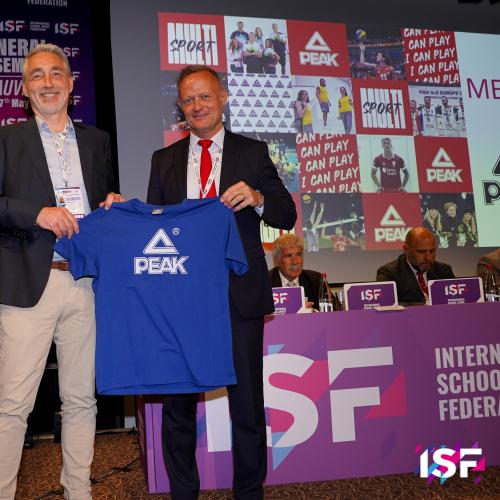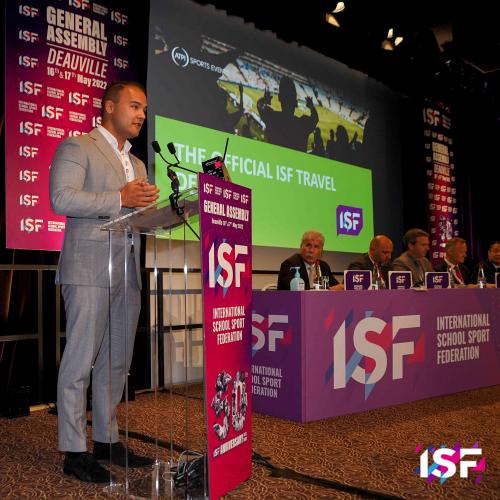 This year's Annual General Meeting was also an opportunity for the ISF to introduce ISF members to its newly formed partnerships with ATPI Sports Events and PEAK.
ATPI Sports Events will handle the ISF business travel needs as the official ISF travel agent. A dedicated official ISF travel agency will provide basic and wide-ranging services to ISF stakeholders, including staff, board members and members of national federations, athletes and ISF event organizers. With a wealth of experience working with major sporting events, from the Olympic and Winter Games to yacht racing, as well as with soccer teams and other major sports federations, this partnership will ensure continued emphasis on the overall experience of ISF event attendees.
The partnership with global multi-sports brand PEAK marks the beginning of a new innovative sports merchandising partnership that will include the distribution of official ISF sportswear by PEAK. In addition, this deal will also ensure the provision of official sports equipment for ISF events, with the 2022 ISF Gymnasiade Normandy 3×3 basketball competition being the first ISF competition to benefit from it. A key element of this partnership with PEAK is the ability to support ISF members by providing sports equipment for their teams participating in ISF events as well as school sports events at the national level