3,000 girls will take part in a sporting event promoting girls' empowerment through sport and education on September 12-17, 2022.
On Tuesday, September 6, 2022, a press conference was held at the Royal Library of Belgium (KBR) in Brussels, announcing the second edition of the ISF She Runs – Active Girls' Lead event, which will take place in Brussels on September 12-17, 2022.
It is the largest international event promoting women's empowerment and girl leadership through sport and education, with over 300 girls aged 13 to 18 from over 20 countries and over 2,000 girls from Brussels.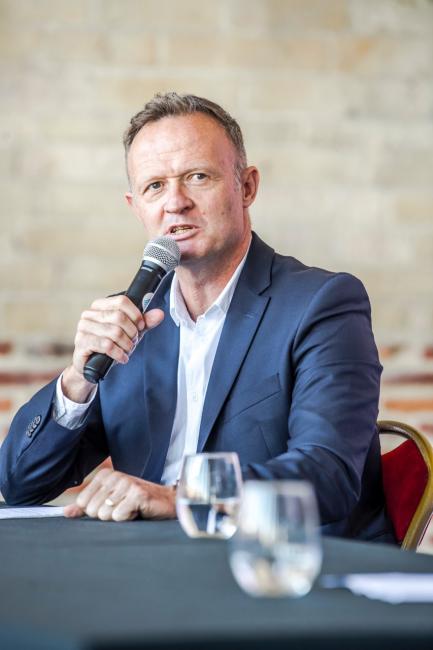 ISF President Laurent Petrynka presented the different dimensions of She Runs 2022, such as: Culture Day, Sports Day (Village and Run), Discussion Conference, Night of Nations, Project Sprint and Final Conference.
"She Runs is an event that balances cultural, social and sporting exchanges. It is a project that I am passionate about, the girls are motivated, ISF is here to help them realize their projects, ambitions and strengthen them through sport and education," said Mr. Petrynka.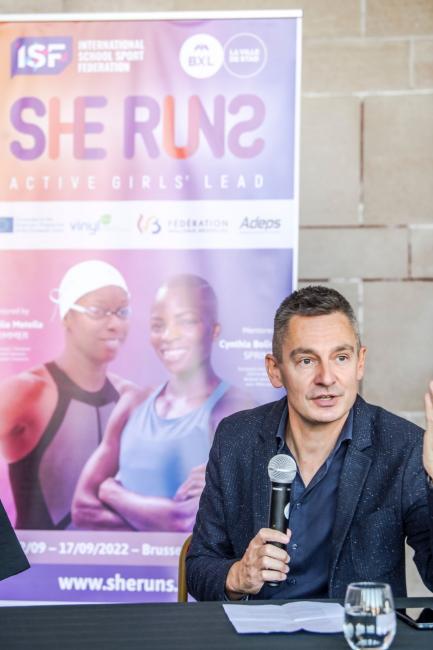 During the conference, first Councilor for Climate and Sport, Benoit Hellings announced the She Runs 2022 event and one of its ambassadors, Cynthia Bolingo, a Belgian and world star in athletics, "an example of excellence in Brussels sport".
Mr. Benoit underlined how important it is for Brussels to host inspiring projects like this one. The city of Brussels is eagerly waiting for participants who will take over the heart of Europe and the world. She is running the same goal for the city of Brussels and the ISF: better representation of girls in sport and a greater presence of women's sport in the public space.
She Runs fights against inequalities and supports women in sport
"It is important for the city of Brussels that there are many women in sport and that they are equal to men. We have a huge problem of inequality and one of the best ways to solve it is sport itself. Women in sport tend to be dominated by men, so we need to encourage girls to get involved and help them grow personally and athletically and become confident women. We are thrilled to host an event of such importance to every young girl today." – First Councilor for Climate and Sport Benoit Hellings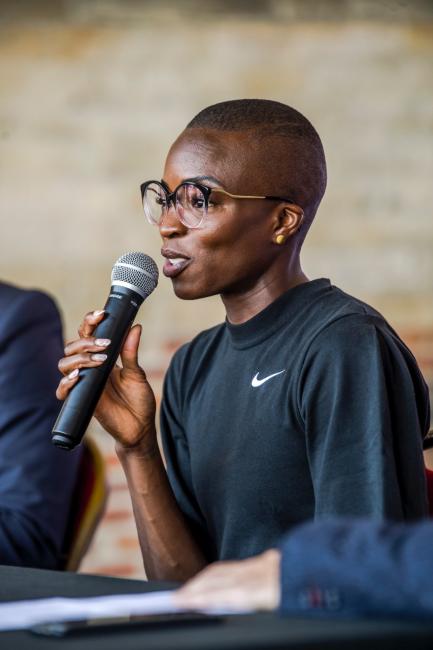 An event to remember, an impact on future developments from the very beginning
ISF She Runs ambassadors such as Cynthia Bolingo and Malia Metella will have a big impact on their performance and careers. Participants of the event will meet strong women from the world of sport, education and the media.
"Sport is a school of life. This event is close to my heart because it takes place in my city, Brussels, and it promotes women's empowerment. I am happy that I can inspire girls to not limit themselves and believe in themselves, whether in sports or in life in general." – Cynthia Bolingo, 2022 Ambassador and Belgian Olympian
The various partners understood the importance of such an event. With the support of the City of Brussels, the European Commission's European Sport Plus Program and VinylPlus, this event reaches its full potential. Vinyl Plus works with the ISF and helps it create more sustainable and environmentally friendly sporting events through PVC and recycling design. Indeed, vinyl has long been used in sports for its unique performance characteristics. The floor that will be used at the ISF She Runs Sports Village is made of recycled PVC – the girls will be running not only today but also in the future. VinylPlus's commitment to working with the young generation on the environmental impact of sporting events is precisely why it is one of our main partners.
We can also count on our long-term partners, the Kinder Joy of Moving Program, who have always been committed to promoting and conveying equality through and beyond sport, and our sports merchandising partner, PEAK.
With the support of all stakeholders, She Runs is a project that will inevitably happen. Stay up to date with all the information on our website, social media (@ISF_sports) and tv.isfsports.org